I was asked many times in the recent past about the name of my blog. "Why
my ikat love?" "What does Ikat mean?"
So I gathered that there is a bit of confusion in some of my readers' minds regarding 'Ikat'. Well, not everyone knows the names of different fabrics and designs, especially men and I don't really blame them because India has a wide range of fabrics and textiles involving different weaving methods and dying techniques like Khadi, Muslin, Kota Doria, South Indian Silk, Bandhni and Ikat to name a few and knowing the fabrics well takes years of experience. I grew up seeing my mother, aunts and sisters wearing beautiful hand woven cotton and silk saris from different parts of our country. And when I started choosing my own clothes I always gravitated towards cotton and silk fabrics and unknowingly rejected the synthetic yarn variety. Ikat or 'Ikkat', as we call it in India has always been my favorite, be it fabric for my kurtas or the bedspread or the runner for my dining table. There is something in the pattern and color of Ikat that never fails to attract me. However, Ikat is not the only one, I am drawn towards Khadi, block prints, Kalamkari and Bandhni too but Ikat is that one love which I keep going back to. And it is that irresistible love for Ikat, one of the oldest forms of textile design which inspired me to start blogging.
The name 'Ikat' actually has its origin in the Indonesian language. Ikat is a dying technique of textiles. And the dying of patterns into the warp or the weft fibers applying resist dying process happens even before the weaving of the cloth unlike in traditional Bandhni where resist dying is applied to already woven fabrics.
Ikat
Tie & Dye Bandhni fabric
In weaving terminology 'warp fibre' is the lengthwise yarn and the 'weft fibre' is the yarn that is inserted over and under the warp fibre to create a pattern in the textile. Usually in Ikat fabrics either the warp or the weft is dyed before weaving the cloth but in India we also have something called 'double Ikat' in which both warp and the weft are resist-dyed to create our very own magical Patola from Gujarat and Pochampally from Andhra Pradesh and Ikat cotton saris from Orissa.
Patola from Gujarat, India
Pochampally Ikkat sari from Andhra Pradesh, India
Ikkat cotton sari from Orissa, India
Earlier my knowledge of Ikat was limited to Indian Ikat fabrics but I was amazed to find breathtakingly beautiful Ikat fabrics from around the world. Now some of my favorites are Indonesian warp-Ikat, Japanese warp-Ikat called Kasuri and Ikats from Uzbekistan.
Uzbek Ikat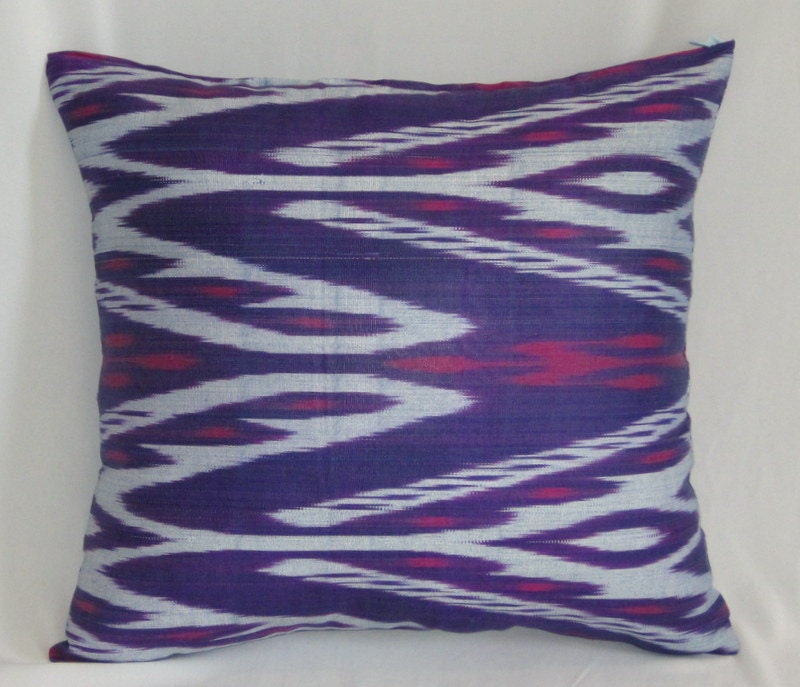 Ikat from Uzbekistan
This fascinating Ikat table runner is from Laos.
In some cultures it is believed that Ikat has some magical power and it is also a symbol of status, wealth, power and prestige but for me it is simply 'love' that I associate with this magical pattern of fabric. So my love story with Ikat will continue and grow with each passing day.
Images via:
tradeindia.com;
ctwiei.ning.com;
galeritamingsari.blogspot.com;
sarishop.com; indianetzone.com; ikatfabric.com; ajilbab.com; arastan.com; etsy.com;
arastan.com.